Fade haircuts are one of the most popular, versatile and attractive haircuts for men, teenagers and boys. They look great, are easy to style and work for all guys.
Fade haircuts work for every hair type from thin to thick and straight to curly. For men with thick hair, fade haircuts lighten up hair up and make styling easier. So how do they work for thin and even thinning hair? Ultra short hair on the sides makes hair on top look thicker and fuller in contrast. This is true for guys with thick hair but also for men with fine, thin and thinning hair. For wavy, curly and kinky hair, fade haircuts keep the sides short and create a clean cut hairline.
Hairstyles with fades can be anything you like. Hair can as short or long as you like, or anything in between. The buzz cut with a fade is a very popular hairstyle. On the other end of the spectrum, a side burn and low fade adds a masculine finish to long hair. Fades also look great at every age and can extend the time between haircuts for boys and add for older men.
Taper vs. Fade – What's The Difference?
Just like saying soda versus pop, barbering terms can vary between people and regions. Some people use the same word to mean different things or different words to mean the same thing. Sometimes the words taper and fade are used interchangeably.
If you ask us, they mean different things and the dictionary agrees. The dictionary definition of fade is to "gradually grow faint and disappear" while taper is defined as "to diminish or reduce in thickness toward one end".
Fade haircuts usually use clippers to "fade away" hair from a short length to even shorter or the skin. Fades can also be cut with scissors but this results in a softer look instead of a crips, blurry fade. Taper haircuts are classic scissor cut men's hairstyles with shorter hair at the sides and back.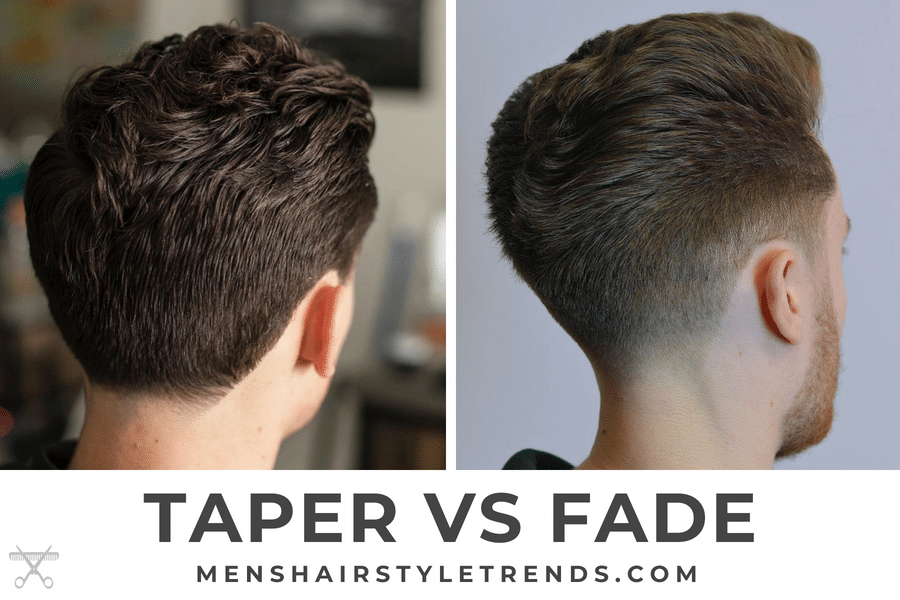 To make sure you get exactly the cut you want, always show your barber or stylist a photo. Using words and even clipper guard numbers can result in miscommunication.