Starting with how to talk to your barber and moving on to how to find your face shape and hair type, choosing a hair length, beard grooming, and hair products. This ultimate guide will help you get a haircut and style that looks great.
How to talk to your barber or stylist to get a great haircut.
First let's discuss how to talk with your barber or stylist to make sure you get the cut and style you want and go home happy. Let's dive right in on how to accomplish this with every barber visit.
Q: How can I ask my barber for the haircut I want?
A: Bringing a picture is the best way to get exactly the haircut you want.
We get a lot of questions asking what specific haircuts are called and while we try to oblige, you really don't need to know. A picture is worth a thousand words so just show a photo instead. Words don't convey as much information as an image and there are multiple names for some cuts so avoid any confusion with a photo.
Of course, you're going to have to start with a hairstyle that works for you. Look for people that have your hair type. If you have have fine hair, don't show a picture of thick hair. If you have curly hair, don't show a photo of straight hair. With a really different hair type, the cut won't look the way you expect it to.
The other thing to look for is face shape. While certain styles can work for everyone (see the undercut), that is not always the case. Notice if the celebrity or model has a similar face to you – is it square, round, long, chiseled? Although a haircut won't transform you into [insert celebrity here], it will work with your features to make you look your best.
Q: What if I don't know what kind of haircut will work for me?
A: Talk to your barber.
Men's hair has experienced a renaissance in the last few years, with more styles and products available than ever before. That's the good news. The bad news is it can be overwhelming, especially if you've had the same haircut for a long time and are uncertain about trying something new. A new cut could be better but it could also be worse.
As stated above, you don't need to know everything about hair to get a great cut and style. You are seeing a professional. It is their business to not only know the trends but to adapt a style for different hair types and face shapes. So if you want a new haircut but don't know what to get, the most important thing is working with a barber or stylist you trust (more on that in the next question).
When you're in the chair, explain that you're not sure what you want but throw out any ideas you have. Do you like hipster styles? Slick or spiky? Short or longer? Want something trendy or conservative?
Your barber will usually ask but if not, mention any issues you feel you have with your hair like a cowlick that won't stay down, hair that gets greasy late in the day, or hair that is too fine or thick to stay styled. Let your barber or stylist know how much time you typically spend styling hair. If you want a wash-and-dry cut, that's going to be a different cut than if you enjoy using products or blow dry hair. Last, how often do you get your hair cut? Intricately shaved cuts require frequent to stay fresh while most cuts can be worn for months between visits.
With all that information, your barber or stylist will have formulated an idea and discuss it with you before starting cutting. If it sounds good, let the cutting begin.
Q: How to find a great barber or stylist?
A: Keep trying until you find someone you trust.
All of this advice depends on having a good barber or stylist. There are so many of them out there, it can be difficult to know where to start. First off, decide if you prefer a barber or salon environment. One isn't better than the other but they are different. Barbers are usually more masculine environments, provide straight shaves and beard grooming, take less time, and tend to be cheaper. Salons will be unisex, offer appointments for hour long cuts that provide more time to discuss what you want, and provide a more pampered experience. The important distinction isn't barber vs stylist but who you trust to cut your hair.
Where can you find someone you trust? First, ask your friends, especially if there's someone with consistently good hair. If you spot a fresh cut on the street, you can always ask them where they got it. It's a huge compliment so don't be shy. Online reviews can also be helpful. Look to Yelp, local papers and websites, and annual awards in your city.
Then, check out their websites and social media to see the kinds of cuts they do. There are many quality barbers and stylists out there that might not be for you. Not because they're not good but because they're doing classic cuts when you want something trendy or they're all about hair designs but you wear a suit to work.
Many barbers also show off their cuts on Instagram so it's a good place to find hairstyles and barbers. Check out @thebarberpost for reposts of the latest and freshest styles. There are plenty of excellent barbershops that don't have websites or social media so don't let lack of a web presence scare you off. It means that that barbershop is good enough to advertise by word of mouth alone. Here's are a few barbers and barbershops that we recommend.
Then book a cut. Follow the instructions from the first two questions and you should be happy with your new style. If not, follow the instructions below.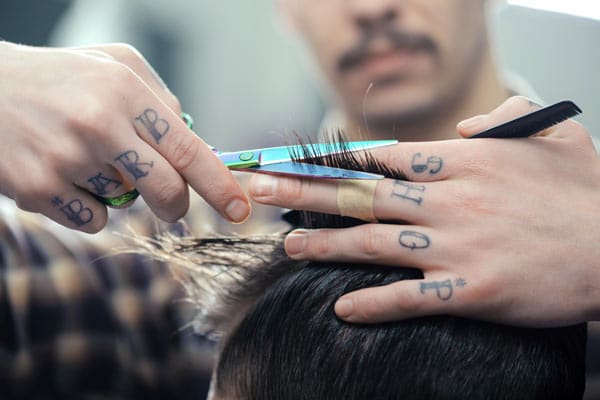 Q: I don't like my haircut. Now what?
A: Speak up immediately, wait it out, find a new barber or stylist
So you read the reviews, brought a picture, and talked to your barber but still aren't happy with your cut. What should you do?
First, the earlier you catch it, the better. If you start to notice things going wrong while you're in the chair, say something. You can ask what's happening with the cut or say if it seems a bit too short/long. A good stylist will adjust so that you don't leave unhappy.
If you leave the barbershop and don't like what you see at home, the best advice is to wait a few days. You're stylist may have given you a fashion forward cut you're just not used to yet. Also, try asking trusted friends who will be honest. They might see something you don't. It's common to need some time to adjust to a change. Sometimes it's not the cut that that's the issue, but the style. Wash hair and skip the product or try out a different style.
If you're still not happy, call them and let them know you're not pleased. If you have enough length left, most barbers and stylist will recut hair free of charge.
If hair is very short, there's only one option – wait for hair to grow. It seems bad at the time but fortunately, hair grows back. In a few weeks, hair will be ready for a new style. And as said above, you might grow to like it. In the time, try to find a recommendation for a new barber or stylist to visit next time.